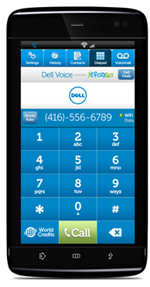 Launch day has arrived! Introducing Dell Voice, powered by Fongo
Launch day has arrived!
We are thrilled to share with you the launch of our new service offering with Dell Canada -- Dell Voice, a FREE VoIP Calling App that will help save you money on your mobile phone bill. There has been a lot of excitement and anticipation about this launch, both from our customers and here at Fongo. Thank you for your patience.
Dell Voice is available for your iPhone, iPod Touch, Android, BlackBerry (coming soon) and Windows PC and can be found on the Android Market and the Apple App Store. Click here to download Dell Voice for your Windows PC.
Here are some highlights of what you can expect from Dell Voice:
Free Local and Long Distance Calling to Most of Canada*
All local and long distance calls to our Free Calling Cities are free.* The Fongo free-calling network covers over 85% of Canada including 30 of the largest metropolitan areas and 10 provinces. If you need to call outside of our Free Calling Cities, we have you covered with the lowest cost per minute rates to locations around the world. Dell Voice to Dell Voice calls are free no matter where you are!* Click here for a complete list of Free Calling Cities.
Travel with Dell Voice*
Take Dell Voice with you anywhere in the world and save. All calls to our Free Calling Cities list are free, no matter where you're calling from.* Simply find a spot with WiFi coverage and place your calls back home. Likewise, if others call you from within the Fongo free-calling network, or they are also a Dell Voice customer, the call is free!* And if you're not there to answer the call, your free voicemail service will be.
International Rates Right at Your Fingertips
To check the rate of a call from within the app, just dial the number you want to call and click the World Rate button -- you'll automatically see the rate to place the call. You can top-up your World Credits and check your current credit balance by clicking the Account tab within the app. Purchase World Credits for your account by logging in to the Dell Voice website after downloading and registering the mobile or PC app. Click here to view our international rates.
Free Unlimited Incoming Calls*
All incoming calls are free* and there are no time-of-day or day-of-week restrictions.
Free Phone Number
A free phone number is immediately assigned to you upon registration. If your friends or family live in a different province or city, get a number in their calling area so it's a local call when they call you.
Live Outside of Our Free Calling Cities?
No problem, you can sign up for Dell Voice, call for free to our Free Calling Cities*, and benefit from our other free services. For example, if you live in Jasper Alberta, register for a Calgary phone number and place calls for free.* Encourage your friends in Jasper to sign up and they'll be able to call you for free too!* Remember, all Dell Voice to Dell Voice calls are free* so if everyone you know signs up for Dell Voice, all calls are free no matter where you are!*
Call any Mobile or Landline Number
Unlike peer-to-peer calling apps, you can call any mobile or landline as well as other Dell Voice numbers.
Phone Functionality
Features include a free phone number, free local and long distance calls to most of Canada*, free unlimited incoming calls*, free voicemail, free caller ID, free call waiting, free call forwarding, 911 service**, and more.
Follow Me Service
Forward incoming calls to a mobile, home, cottage or a friend's phone number for free.* Dell Voice will call up to 3 separate phone numbers at the same time. If you decide not to pick up, all calls will still be answered by your free voicemail service.
Download Dell Voice now.
At Fongo we're focused on eliminating the cost of calling so you can Talk Freely To The World™. We appreciate your continued support and feedback. Please let us know if there are ways we can improve our service for you. We are listening!
We look forward to serving you for years to come.
- Team Fongo
p.s. To learn more, please visit www.dellvoice.ca and www.fongo.com or download Dell Voice now.
* Dell Voice enables you to place and receive calls using your existing carrier data (3G/4G) or wireless (WiFi) connection. Check to see if you're using a wireless signal or carrier data plan to place and receive calls right from the app. Look for the WiFi/Data indicator in the app -- it conveniently updates when your connection changes. If you're using a carrier data connection, network data or roaming charges may apply. Switching between your carrier data connection and WiFi during a call is not supported.
**Limitations on VoIP 911 service can be found at www.dellvoice.ca/911
go back to Press